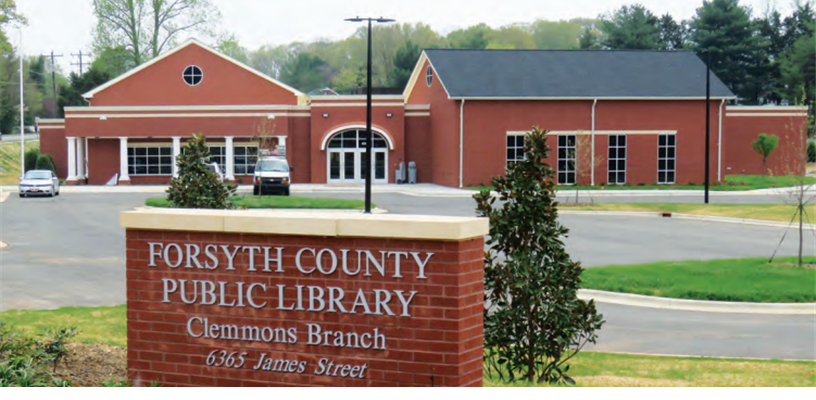 The new Clemmons Branch of the Forsyth County Public Library system opened on June 17, 2021. The new branch is located at 6365 James St.
The branch manager is Decca Riedel Slaughter.
"Our library system has had a presence in Clemmons since 1964," said Library Director Brian Hart. "We're proud of the fact that we've been able to grow with the community and that we're now welcoming a second generation of Clemmons customers to a beautiful new space."
The 20,000-square foot branch has spaces devoted to teens and children. The branch also has a large auditorium and smaller multi-purpose room, a makerspace, three small meeting rooms, a quiet reading room and a sunny courtyard.
Branch History
Due to the efforts of the Clemmons Civic Club, county library service in Clemmons began in 1964 with a sub-branch located in a former Northwestern Bank building on Highway 158. The first librarian was Mrs. J.F. Brower, who was also a retired teacher. The facility was open for 24 hours per week. In 1967, it moved down the road to a former drugstore.
The Library was moved into a building shared with The Clemmons Courier newspaper in 1977. Hazel Myers and Gladys Cumby managed the Library at that time.
A full-service library branch was opened in August 1984 on land donated by Edgar and Melanie Broyhill. The first full-time professional librarian was Jim Govern, and the Library was open for 59 hours per week. The first children's librarian, Myra Hill Worrell, was hired in 1984. Elizabeth Skinner became the first adult services librarian in 1987. The first village Christmas Tree lighting ceremony was held in 1990.
The Clemmons Library building was named for former County Commissioner Forrest E. Conrad in 1991. In that same year, another new institution was born; Library Manager Linda Hyde Tannenbaum started the Dial-A-Story service.
The managers of the Clemmons Library through the years have included: Mrs. J.F. Brower, Gladys Cumby, Hazel Myers, Jim Govern, Linda Hyde Tannenbaum, Cindy Jones, and Carolyn Price.